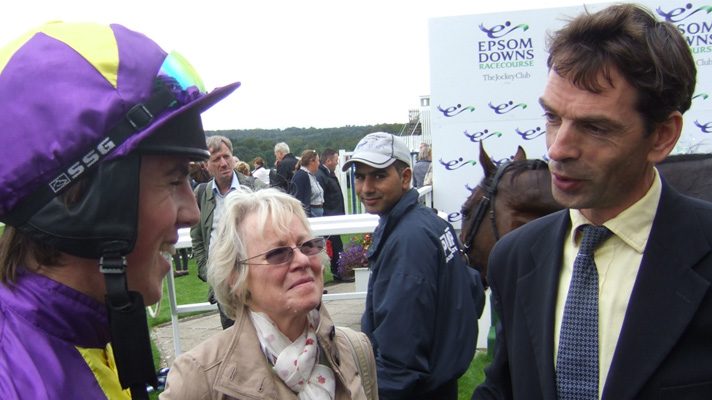 Jonathan Portman is a hands on horseman with worldwide experience and has been training flat and jumping racehorses since 1998.
Formerly as an amateur rider he rode winners of flat in France and jump races in England. He was also closely involved in the training of point to pointers and Arabians, riding them with great success.
Prior to training, Jonathan was assistant to Breeders Cup winning trainer Jonathan Pease in Chantilly, France and to Derby winning trainer Luca Cumani in Newmarket. He also worked in Australia and the USA.
The first 14 years of Jonathan's training career, assisted by his wife Sophie, were spent in the rented yard of Peter Cundell near Newbury.
During this time he trained several jumping winners including King Of Sparta (2nd at Cheltenham Festival), Annie Byers (Mares Chase Final LR), Ned Ludd (Salmon Spray Trophy).
Among the many flat successes came prolific two year old winners such as Cheap Street, Spanish Bounty, Baycat.
Since relocating to Lambourn to the impressive Whitcoombe House Stables in 2012 quality and quantity improved further in the shape of Group winners such as Annecdote, Royal Razalma and five-time unbeaten two-year-old filly Mrs Danvers. More recently Mild Illusion landed the "Bosra Sham" Listed Stakes at Newmarket in November 2019.
Jonathan remains as ambitious as ever to build on his results and reputation and to offer owners big and small an enjoyable and rewarding ownership experience. Join him now!
| Date | Name | Race | Course | Owner |
| --- | --- | --- | --- | --- |
| 01/11/19 | Mild Illusion | Bosra Sham Fillies Stakes (Listed) | Newmarket | Old Stoic Racing Club |
| 07/10/16 | Mrs Danvers | Cornwallis Stakes (Group 3) | Newmarket | Turf Club 2014 |
| 12/08/16 | Mrs Danvers | St Hugh's Stakes (Listed) | Newbury | Turf Club 2014 |
| 16/07/16 | Mrs Danvers | Weatherbys Super Sprint | Newbury | Turf Club 2014 |
| 17/10/14 | Royal Razalma | Cornwallis Stakes (Group 3) | Newmarket | David & Gwyn Joseph |
| 02/08/13 | Annecdote | Oak Tree Stakes (Group 3) | Goodwood | Portlee Bloodstock |
| 19/06/13 | Annecdote | Sandringham Handicap (Listed) | Ascot | Portlee Bloodstock |
| 09/07/08 | Spanish Bounty | toteswinger Stakes | Newmarket | J G B Portman |
| 01/05/04 | Annie Byers | Tattersalls EBF Mares' Chase Final (Listed) | Uttoxeter | M J Vandenberghe |